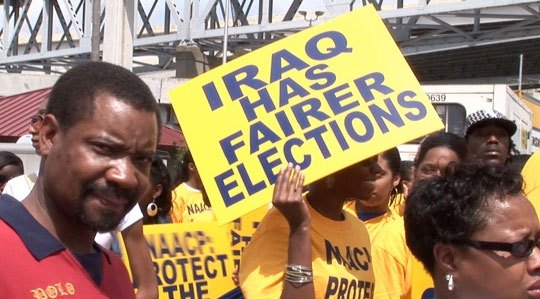 RACE is available in high resolution format for screenings at academic and professional conferences as well as for community screenings. Please contact CecilFilm Productions for all inquires relating to screenings for groups or an event of any size charging admission.  
The National Association for Ethnic Studies (NAES)
DATE:
Friday, April 6, 2012

TIME:
4:30-6:30pm
LOCATION:
Grand Ballroom C & D, 2nd Floor
Astor Crown Plaza
739 Canal Street,
New Orleans, LA 70130
Download the 2012 Schedule. Day passes for locals available onsite.
---
Bermuda International Film Festival
DATE:
Sunday, March 20, 2011

TIME:
9:15pm
LOCATION:
Speciality Cinema
30 Queen Street
Hamilton HM 11
---
The YWCA'S Dialogue on Race Task Force presents  "The 2010 Community Dialogue"
DATE:
Monday, November 1, 2010

TIME:
6:00pm to 9:00pm
LOCATION:
The LSU Cox Communications / Bo Campbell Auditorium
100 Gym Armory
Baton Rouge, LA 70803
Free Screening – All Welcome
Visit site for more info
---
2010 New Orleans Film Festival
DATE:
Wednesday, October 20, 2010

TIME:
5:30pm to 6:30pm
LOCATION:
The Prytania Theatre
5339 Prytania St
New Orleans, LA 70115
---
DATE:
Sunday, October 17, 2010

TIME:
7:00pm to 8:00pm
LOCATION:
The Porch 7th Ward
1362 St. Anthony St.
New Orleans, LA 70116
---
DATE:
Sunday, October 17, 2010

TIME:
4:30pm to 5:30pm
LOCATION:
The Theatres at Canal Place
333 Canal street
New Orleans, LA 70130
Download 2010 Program
Download Scheduling Grid
---
Martha's Vineyard African-American Film Festival
DATE:
Friday, August 13, 2010

TIME:
6:00pm to 7:30pm
LOCATION:
The Katharine Cornell Theatre
Martha's Vineyard
---
Roxbury International Film Festival
DATE:
Sunday, August 1, 2010

TIME:
2:30pm to 4:30pm
LOCATION:
Wentworth Institute of Technology
Wentworth University
550 Parker Avenue
Roxbury, MA 02119
---
Dillard University "SNEAK PREVIEW"
DATE:
February 23, 2010

TIME:
6:00 PM
LOCATION:
Lawless Memorial Chapel
Dillard University
2600 Gentilly Boulevard
New Orleans, LA 70122
(504) 283-8822